How do you solve a problem like the NHS? It is the world's largest publicly funded healthcare system, serves a population of 64 million people, has more than 1.5 million employees and a budget of £116.4 billion in the 2016 tax year.
Unfortunately, it is groaning under the pressure of a £22 billion budget deficit and, thanks to longer life expectancy and medical advancements, greater burdens than it has ever seen. The types of illnesses being treated are changing and we're spending more time in ill health as we live longer.
In the near 70 years since the inception of the NHS the world has changed dramatically and the system simply isn't fit for purpose. While nearly all other industries and sectors – from retail to banking – have seen radical disruption, the NHS remains largely untouched.
The US leads the way in med-tech but thanks to hubs of innovation in Cambridge and London there has been some growth in the UK, in part thanks to the opportunity that the NHS offers as a potential market.
DigitalHealth.London was launched in 2016 by the then London Mayor Boris Johnson with the purpose of 'facilitating a functioning market for digital health in London, boosting investments and jobs'. There are now several new initiatives being launched throughout the NHS but is it enough to address the problem and what do the next 20 years hold for an ailing healthcare system?
Barriers to entry
A successful prognosis largely depends on whether innovative ideas can make it through the door of the NHS. If you ask startup founders, including even the most entrepreneurial clinicians that have come from within the system, tackling the sheer scale and complexity of the organisation can be an insurmountable hurdle.
Stephen Bourke is the co-founder of Echo, a digital prescription management app described as a 'Deliveroo for pharmacies'. He sees the NHS not as one business to sell in to but as a 'marketplace with too many routes in, which leads to a painful sales process.
'Even if you have a successful meeting with one department you have to replicate that over and over. Most startups just can't afford to go to 10 meetings over the course of 12 months,' he says.
Risk is a major hurdle. Cuts to budgets and increased pressure on services are putting frontline services under enormous strain, which means that any interest in taking a leap of faith in a new system or technology is limited. Protecting patient data is paramount.
As Bourke puts it: 'There can be no alpha or beta testing when you're talking about healthcare or patient data. Your idea has to be bulletproof. There's just too much risk involved. That means it takes longer to come to market, which means it takes more money, which most startups just don't have.'
---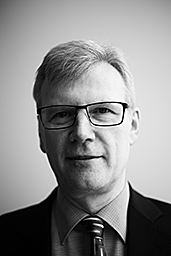 The CEO of Salford Royal NHS Foundation Trust says: 'We have developed a culture that does not accept the status quo when improvement is necessary. We need people with new ideas to bring innovative approaches to some of the biggest challenges in our country.'
---
Culture change
Tony Young, National Clinical Lead for Innovation at NHS England, is in charge of innovation across the entire organisation and says there has been a change in culture, thanks to a range of new initiatives and greater collaboration with industry.
He says the door is open. 'We are working with industry in partnership to develop products and services to address pain points. We know that if you work with clinicians on the problems they face and collaborate with them, you are much more likely to find an innovative idea being taken up and adopted.'
Young hopes that the launch of a series of programmes and initiatives intended to foster entrepreneurialism and improved access for startups will help.
Some 15 programmes now exist to support innovation. One of the most successful, the NHS England Clinical Entrepreneur Programme (CEP), is the world's largest-ever clinical training entrepreneurship programme.
Suman Saha, an orthopaedic doctor and the founder of Doctify, a health-tech startup that allows patients to book an appointment with a doctor and review them online, is on the programme.
His business has grown from two doctors to a full-time team of 20 people in less than 18 months. 'There are a lot of doctors with their own ideas within the NHS who might see a problem and a solution but are not equipped to execute it,' he said.
However, the CEP is still not a fast track to success and even the founders of Doctify had reservations about their ability to penetrate the NHS as an early-stage startup.
'We set out to start a health-tech company, to solve a problem and scale it quickly without the limitations of the NHS. We created it to work with the NHS but we didn't want to wait two years to see it executed,' says Saha.
'The key is collaboration. We built a platform and asked people: "How can we adapt it for you so that this solves your problem?" You might want to disrupt the healthcare market but you might spend two years developing a product that isn't quite right for the NHS.'
Going direct to the consumer is something that Bourke felt he had to do. 'We decided that going down the NHS route was just too difficult so we decided not to. In many ways, our hand was forced,' he says.
Bourke's business started with a patient pain point and built a service around what the consumer needed. It solves the inconvenience of securing repeat prescriptions, reducing the burden on GP surgeries and tackling the fact that 30%-50% of patients aren't taking their medication properly.
'We wanted to create a product that was designed to be optimal for clinicians but provided real value to the consumer. We focus on customer service, design and user-experience as much as the service itself.'
---
 Faces of a Vibrant Economy: Prof Rachel McKendry
McKendry is the Director of i-sense, a University of College London research programme that aims to engineer a new generation of early-warning systems to identify major disease outbreaks. Her message is: 'Our knowledge must evolve faster than the pathogens.'
---
Connected health
This is possible, in part, because of what Young calls the 'personalised, democratised healthcare revolution. More and more innovations are coming together to empower patients and put more tech directly into their homes. It's moving closer to the consumer,' he says.
Hamish Grierson is the founder of Thriva, which produces blood tests that allow people to monitor their health at home. He claims that as well as helping customers directly, his product integrates with surgeries and reduces the burden on them, allowing patients to be categorised before they reach the NHS and ensuring they are on the right care pathway.
But will the shift in consumer behaviour come fast enough to relieve such great burdens? 'It's a tough nut to crack,' says Grierson. 'You have to get very close to your target customers to get them to adopt a new behaviour, but that's what startups do well.'
Startups might also like to know that the 'connected health' market is predicted to be worth almost $61 billion globally by 2020, representing a 33% average annual growth.
What's increasingly clear is that industry and the healthcare system need to collaborate – and that policymakers have a role in opening up routes into the NHS and supporting the growth of health-tech startups. If all that happens, it might even cure a problem like the NHS.
Who are the winners and losers in the technology race to save the healthcare system? A Grant Thornton roundtable posed this question recently – disover their findings here.